How Retail Banking can avoid a "Southwest" meltdown
Feb 07, 2023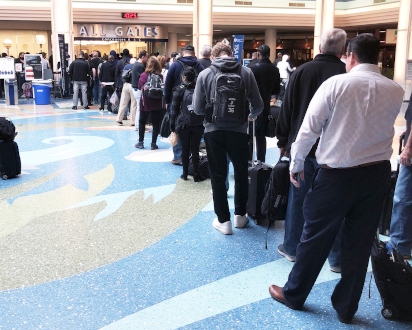 What Happened?
Disaster. Unless you've been actively avoiding the news this past Holiday season (we wouldn't blame you), you almost certainly heard about the massive logistic meltdown at Southwest Airlines. Thousands of flights cancelled, many more thousands of people left stranded in airports, checked baggage scattered across the country, and a major brand left decimated - partly by a major winter storm system, but also partly by a failure to invest in technology.
With all the other major airlines subjected to the same winter storm system, why was the impact to Southwest orders of magnitude greater? The answer, according to current available analysis, appears to be executive leadership's refusal to replace their outdated crew scheduling system. Scheduling is already an incredibly complex and computationally intensive task, Southwest's aging system just could not handle the task at hand.
The damage to Southwest had been done. Interview-after-interview showed would-be Southwest passengers telling news reporters nearly identical statements: "I'll never fly Southwest again. I'm done." In the span of a week, a brand that consumers had put their trust in was in freefall.
Why should Banks and Credit Unions care?
Trust. Retail banking, like the airline industry or healthcare, is an institution that consumers place in the highest tier of trust. Consumers trust their financial services provider to invest in technology to serve their needs as customers or members. They work hard for their money and choose carefully where to place it. When someone opens a new loan, they trust that institution to provide high levels of service in a timely fashion when they need it. When a customer visits a branch on their lunch break to make a deposit, they trust they will be greeted in a timely manner and be able to get back to work. An understaffed branch or a branch with the wrong mix of staff - leading to increased lobby wait times - can mean not only inconvenience for the customer, but a breach of trust.
What can be done?
Action. Bank and Credit Union leaders can take action to ensure their branch operations are supported by the right technology to give their staff the best chances of success.
Branches staffed appropriately with the right mix of staff (Tellers, CSR/MSR, Loan Officers, etc.) to support the expected branch volume.
Branch managers should have some system in place to show them the forecasted transaction volume.
Managers should be given tools to take the guesswork out of scheduling employees at the right time to match demand forecasts.
If float staff are used, software and procedures should be available to streamline the float request/assignment process as well as provide insight for decision making.
Good leadership is often defined by bringing out the full potential of their team. Through technology, leaders can equip their team to measurably enhance branch efficiency, increase service levels, and reduce the risk of customers losing trust in their bank or credit union. If your retail organization is not already leveraging technology for branch operations (forecasting, scheduling, analytics, etc.), it may be at risk of losing the trust of its customers.