QBTimer IIF Fixer

Modifies legacy QBTimer IIF files to be compatible with QuickBooks 2022.
QBTimerFixer is a standalone Windows application to convert QBTimer IIF files into a format compatible with QuickBooks 2022. It is offered completely free with no ads and is not a trial. No license is required so it can be distributed to employees to convert their own files before sending them in. Just use it.
Select multiple files to fix.
Adds a configurable suffix to the the file name of successfully fixed files.
Option to add a Payroll Item to all TIMEACT records of all the files fixed in a batch.
Option to add a different PTO Payroll Item by searching TIMEACT items for defined text.
No install, simple configuration and instructions.
Fast conversion.
NEW! Version 1.1 Supports defining a second payroll item for vacation/PTO. Searches for specific text in the TIMEACT items. If found it uses a PTO payroll item instead of the default payroll item.
*Completely free, no strings attached, no ads.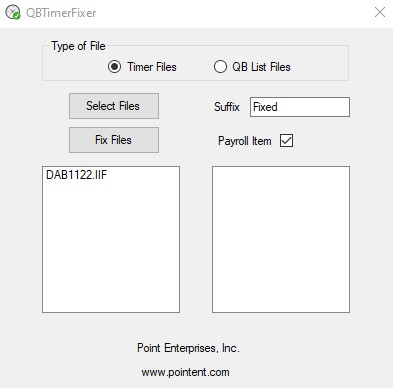 QBTimerFixer.exe is compiled for Microsoft .NET Framework 4.8.
If employees are submitting multi-line Notes in timer entries 4.8 is required to import correctly.