Automating Exception Handling
Apr 14, 2016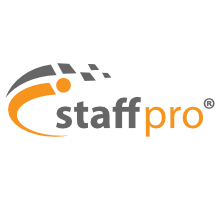 Technology and Exceptions
Technology has long been applied to loan document exceptions. Loan origination systems, whether part of a core system or a third party application, provide some capability to identify exceptions with at least basic ticklers. Some solutions are full featured with notification to lenders, comment history, escalation, multiple statuses, upload corrected documents, reports and so on. Given the importance of meeting loan compliance and regulatory requirements, and the complexity of the origination process, it is no surprise both financial institutions (FIs) and vendors have determined that an investment in software to manage loan document exceptions is worth it. While loan document exceptions are the most visible and perhaps the most critical type of exception, all FIs must deal with a myriad of other kinds of exceptions in back office and branch operations.
StaffPro Branch Resource Management software includes a module to automate exception handling. As with all standard StaffPro features it is available at no additional cost with a StaffPro subscription. Since interfaces are also included, getting data from different areas into StaffPro also carries no additional cost. Exception handling in StaffPro is a full-featured solution.
Define any number of different exception types: Loans, Deposits, GL, Wire Transfer, Data Security, Branch Audits, Cash Reconciliation, etc.
Define any number of exceptions and/or documents for each type of exception.
Define any number of actions for each type of exception.
Assignees (individual or group) receive an email when an exception is created. The email includes a link to directly access the specific exception.
Create and maintain a historical thread of comments, documents and actions for each exception.
Define multiple warning milestones for each type of exception. When a milestone is passed the assignee, author and optional escalation group are notified by email.
Search for exceptions by type, account, creation date, status, assignee or combinations of criteria.
Upload documents or complete a form to satisfy an exception.
Ad hoc and predefined reports of exceptions. Ad hoc reports include multiple filter criteria. Once displayed reports can be exported to Excel. Predefined reports can be anything needed such as all open exceptions over 45 days or a summary report by branch.
Security control over exception types and user functionality.
StaffPro's exception module is designed to provide an integrated system to enhance exception handling across the enterprise. It includes features for each area that have an interest in how, and how well, exceptions are processed and resolved.
Employees who create and process exceptions
These may include internal auditors, members of a compliance department, loan processors and supervisors, Accounting for GL and/or cash reconciliation, deposit operations, etc. Features important to this group of employees are:
The ability to create and assign exceptions quickly.
The ability to interact efficiently with those assigned to resolve an exception.
The ability to track progress, update status, see the history, and request reports for one or all exceptions within their area of responsibility.
Notification and escalation for exceptions that are not resolved within prescribed milestones.
StaffPro provides features to address each of these needs. The Search form lets the user select the class of exception, from those classes that the employee is authorized to access. Criteria include an account number, account origination, customer SSN, account name (customer or can be internal such as Teller Recon), and account with and/or without exceptions. StaffPro displays a list of accounts meeting the criteria and the user simply clicks an account to load it.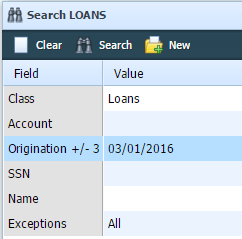 If an account already has exceptions these are displayed with their age and history. This provides a way to add new exceptions, add notes and emails, or modify existing exceptions associated with the account. In addition, if an assignee has uploaded a document it is marked with a special icon and the exception owner can download it directly from the Exceptions grid.


When an exception is created the author has an option to assign it to the account owner (the employee responsible for an account such as a loan officer, not the account holder), a specific user, a group of users or a location (branch or department). When a location is selected StaffPro assigns to all users associated with the location who also have security access to the type of exception. Assignees receive an email notifying them of the exception. Notification emails contain a link for an assignee to connect directly back to the exception. In addition, the user creating the exception can assign a separate group that will be notified if the exception is not resolved within milestones set up for each type of exception.
Exception processors also have access to Reports. Reports provide the ability to request ad hoc reports based on multiple criteria, or to access pre-defined reports such as exceptions outstanding more than 45 days or an exception summary by loan officer. Each type of exception can be associated with an organization tree appropriate for that type. For Loans the org tree might associate loan officers with areas and branches. For teller cash it may be the standard branch hierarchy. For wire transfer it may be a single group or separate areas for domestic and international. The Reports tab has a tool button that lets the user export the output to Excel or a PDF document.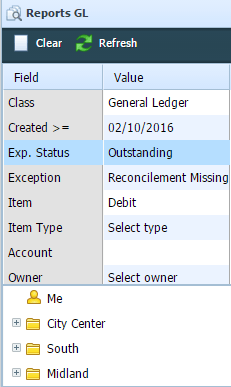 The combination of these features gives employees responsible for handling exceptions a consistent and efficient process to create and manage exceptions in their area of responsibility.
Employees assigned to resolve exceptions
Employees assigned to resolve an exception may be an individual or one of a group. Regardless, all assignees receive a notification email when an exception is assigned to them. The email contains summary information about the exception and a link. Clicking the link will take the user to the exceptions website and directly open a report page for that specific exception. Most assignees will only have access to Reports and not the ability to create or manage exceptions. From Reports an assignee can add a note, upload a document or fill out a form if that was specified by the person who created the exception. When an exception exceeds a completion period, assignees receive reminder notifications.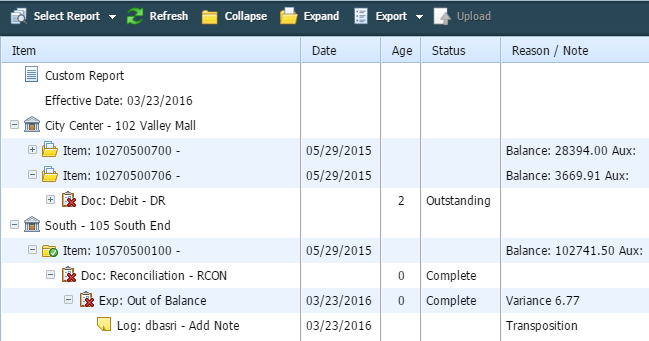 The idea is to reduce time to resolution by reducing the effort required to satisfy the exception. Most employees view having to deal with exceptions as a necessary evil. By providing a single, clean, consistent way to resolve exceptions, StaffPro lowers the barriers that lead to procrastination. Automation also can shorten the time between an exception being identified and it being assigned for resolution. This increases awareness by employees of the relationship between cause and effect. After all, the best way to deal with exceptions is to avoid creating them in the first place, and that requires awareness by the employees.
Management
Management has a clear interest in having exceptions identified, handled and resolved as quickly as possible. Exceptions are also an opportunity, because they are a direct reflection of how well policies and procedures are being followed. In some cases understanding exceptions can indicate when policies and procedures are the problem.
It is simply not possible to see patterns or trends if there are many different non-automated solutions being used to handle exceptions. This is a serious deficiency, because it is through trends that root causes can be identified. In many cases exceptions can be reduced or eliminated by modifying the process in which they are occurring. Sometimes it can be a matter of training. Some employees may cause a higher percentage of exceptions because of how they approach their jobs. Automating exception handling gives management the tools to get and stay ahead of the requirements, evaluate the efficacy of the policies and procedures, and identify employees that need guidance to reduce the overhead caused by the number of exceptions they create.
What next?
There are material benefits to automating exception handling with an integrated solution. The problem has traditionally been that outside of loan document exceptions, handling other exceptions appears as a diffuse set of small problems, none of which individually rise to a level that justifies an investment in technology. StaffPro combines automated exception handling with: workforce optimization, performance measurement, reporting and business analytics, branch cash management, forms and process automation and unlimited interface. All features are included standard under an affordable annual subscription that has not increased in 15 years.